Conference room rental
Would you like to organize a seminar, a business meeting or any other social event? The MIC offers many tailor-made solutions. Divided between the "historic" buildings and the new Business Center, our various spaces and rooms can be adapted to your needs. Projection systems and internet access by wifi are included in each rental.
An evening rental (6pm-22pm) requires the presence of a host/ess invoiced at CHF 40.-/h.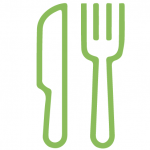 The catering packages provided by the restaurant L'Atelier MIC will delight your guests. The Chef will be happy to submit you an offer adapted to your budget.
In the Business Center, coffee or tea are available from CHF 2.-, mineral water is free.
BC room 1 - Ciba
54m2 – capacity: 24 people
BC room 2 - Ilford
40m2 – capacity: 18 people
BC room 3 - Tellko
26m2 – capacity: 10 people
BC Conference Center
120m2 – capacity: 52 people (seated)
Cinéma room (building n° 170)
Lumière room (building n° 175)
Capacity: 120 people (standing) – modular space
Photochimie room (building n° 170)
Encyclopédie room (building n° 220)