Eco district (since 2021)
From December 2021, this area will have 353 housing units and a local shopping centre will be available. A TPF bus line will connect the district directly to the station.
It will be the very first ecological district in the canton of Fribourg to receive the OPL One Planet Living label and the SEED certification, the result of a close collaboration between the municipality of Marly, WWF and Marly Innovation Center GmbH.
The winning project was born from the association of the architectural firms MAGIZAN and CCHE. A new 13.5 hectare district will offer long-term housing for around 2,500 inhabitants, jobs and will welcome 800 inhabitants in the first phase of the project.
The OPL approach developed by WWF integrates 10 dimensions of sustainability.

Urban and architectural diversity
The site is defined by three strata: a park along the Gérine, a lively hillside and an urbanized plateau in the form of a constructed archipelago allowing the development of a site that was once isolated. A trio of public spaces and an urban and architectural diversity ensure the attraction of the other districts of Marly and represent unifying addresses for both the MIC and the habitations. The strong and distinct character of each address will allow the inhabitants to identify and find each other.
Residing and living differently
This new residential area will meet specific integration criteria with the MIC park. It will offer a harmonious and environmentally friendly living space. Housing and professional activities will be combined in a judicious and innovative way. This project will promote a social mix and offer a new coherent urban landscape.
Become an "eco résident"

The acquisition and rental of housing or premises in the eco-neighbourhood is carried out through the intermediary of the real estate company Anura SA, whose offices are located in the MIC building 104.
The project in video (FR)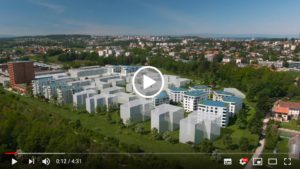 Download the dedicated brochure (FR):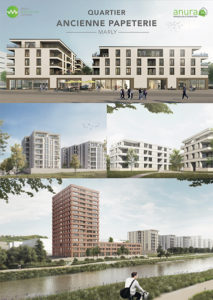 Construction (12.08.2021 – 02.04.2022)

Construction (18.09.2019 – 12.08.2021)

Assets
First eco district of the canton of Fribourg

Constructions respecting the OPL and SEED charter

Opening of a direct bus line to the station

Creating a new way of life

Fostering exchanges
Plugin 1 - Commercial zone
Plugin 4 & Quartier des Berges